Some of you will have seen this vehicle before, for those that haven't a brief history.
18A is an early 1966 truck, after leaving the production line it made its way across the factory ground to Special Projects.
It was first registered for the road in 1968, and received a new registration mark as was procedure at the time, resulting with its current F suffix plate.
It was likely converted to a breakdown truck in 1979 judging by its last 'date of liability' after which it would have run on trade plates in its breakdown role with a company called Milton Motor Body Repairs in Sittingbourne, Kent.
The phone number on the doors (with an added 1) is still current and connects you to a bodyshop called 'Pomphreys'.
It's likely to have been retired before 16th April 1995 (when UK dialing codes changed to the 01 prefix) and was advertised in LRO classifieds during 1996 as 'ideal for renovation'.
It passed to two owners before I bought it from the previous owners widow as she dealt with his quite considerable collection of Land Rovers.
I set out with intent to rebuild, and did a bit of work with it but was very restricted by time and money.
It is now however undergoing rebuild for another forum member -I'll let him announce himself- to add to his collection.
Anyways, some pictures of the job sofar, starting from how she looked with around 50% of the extra steelwork added for the breakdown truck conversion removed.
The rest of the extra weight can be seen welded on the back.
Imposing sight from the bottom of the pit.
Extra metalwork gone.
Rear body off, new -somewhat better- top chassis just visible behind.
Coming apart.
Bulkhead actually pretty good.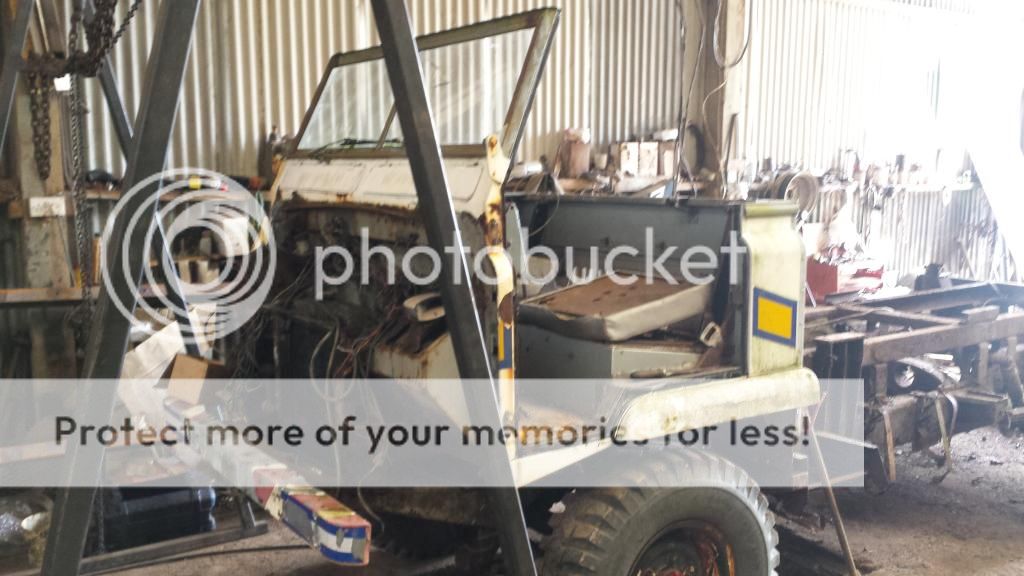 Cab and bulkhead off.
Stripping cab down to component parts to allow cappings etc to be regalvanised.
Chassis with extra bits cut off and hit with a needle gun and wire brush looks reasonable.
But still in need of repair post sandblasting.
New metal let in sympathetically, utilising original edges and seam welds to prevent it ending up like a patchwork quilt.
The plasma cutter is an absolute godsend for this job.
Spring hanger repaired.
And even some new rear shock absorber mountings.
I'll continue this with some pictures of the finished chassis, whilst you'll have already have seen the replacement engine - a more economical option than sorting the siezed original at present- in the FC engines thread.
We have a complete dropside rear body for it, along with a few other bits and pieces that will allow it to come together into a nice presentable vehicle.
Stay tuned for the next exciting episode...