Petrol sniffer
Posts: 42
Joined: Wed Dec 11, 2013 9:08 pm

I cant remember if I put it in here before as all my previous posts seem to have disappeared.

Keith
I built this up back in 2000.
---
The 1-Ton Welder
Posts: 1273
Joined: Sat Oct 20, 2012 9:33 am
Location: West Lakes
Contact:
I recall you posted up a bit about it on the old board before the database was lost and we moved onto this one.

Good to see you're still about anyways. I tried PM'ing you on AULRO a while back and no reply. Would've emailed but lost your address when the now ex wife kept the laptop...

And please post more about the 6x6!!!
---
High range
Posts: 103
Joined: Mon Jun 09, 2014 7:09 am
That looks very practical, would appreciate more pictures!
---
Petrol sniffer
Posts: 42
Joined: Wed Dec 11, 2013 9:08 pm

Other 6X6 FC,s start as a FC then converted to a 6X6. This started as a 6X6 rolling chassis then converted to Forward Control.
Back in the late 1990,s this rolling chassis became available from JRA,s factory that was tooled up to produce the Land Rover Perentie for the Aussie Army. This came in both 6X6 and 4X4.
They are currently being sold off in favor of the Mercedes.
Many Australian Landy lovers are buying up these vehicles.
I digress. For some reason this rolling chassis was rejected but it has Borg Warner diffs with diff locks. The production vehicles come with Salisbury diffs. It also came with a steel cab that was originally a full length troop carrier body but had been cut off by the PO.
I built a fibreglass foam sandwich camper body on the back.
Thanks. I wondered what happened to all my other posts.
---
Petrol sniffer
Posts: 42
Joined: Wed Dec 11, 2013 9:08 pm

It works really well. I wish I could do that with the 2a FC but the spring hangers get in the way.

Keith
Being coil sprung in front it was fairly simple to go with a 4 bolt power steer box rotated .
---
Petrol sniffer
Posts: 42
Joined: Wed Dec 11, 2013 9:08 pm

BW cast into the housing under the nose, no drain plug, and different cover plate to a Salisbury.
I have asked around over here but no one can tell me what model etc.
Anyone have any ideas.?
As I mentioned, the two rear diffs are Borg Warner.
---
Petrol sniffer
Posts: 42
Joined: Wed Dec 11, 2013 9:08 pm
Having a sort out in the boot. Its under the double bed.
Two swing out wheel carriers with mounted HF antenna for the transceiver, and rubbish bags. One for rubbish and the other for firewood.
I cant lift these big wheels that high any more so I mounted a small electric winch behind the bumper. It runs the cable through the block up top by the centre tail light. I lift the wheels with this then swing to either side.

Keith
---
I want it. Looks like something lifted out of Thunderbirds. Daft as a brush and I love it.
---
Petrol sniffer
Posts: 42
Joined: Wed Dec 11, 2013 9:08 pm
---
Petrol sniffer
Posts: 42
Joined: Wed Dec 11, 2013 9:08 pm
Can you see the earlier photos? because I cant. Only the photobucket ones.
Here is where I picked the cab up and sat it on the front to make a FC out of it.
I had to keep the LT95 for the 6x6 function and originally went with an auto box so my wife could drive it if I got crook out in the bush.
They did not work out. The engine is a Chev 6.2 V8 diesel and the autos bolted straight up. The first box was a turbo 700 that broke and the next a 4l80e was too high a geared in first. With 2 oil coolers it still boiled the oil. I then went with the Isuzu MSA 5G box coupled to the LT95 T,box. Its been good with a remote cable shift but as we speak its on the workshop floor as the staked nut that holds the drive flange to the output shaft on the MSA had come loose. Nearly did not make it home from the last trip as gear selection was out. We came all the way home in 4th (direct) luckely without having to stop.
Isuzu MSA 5g box with adapter.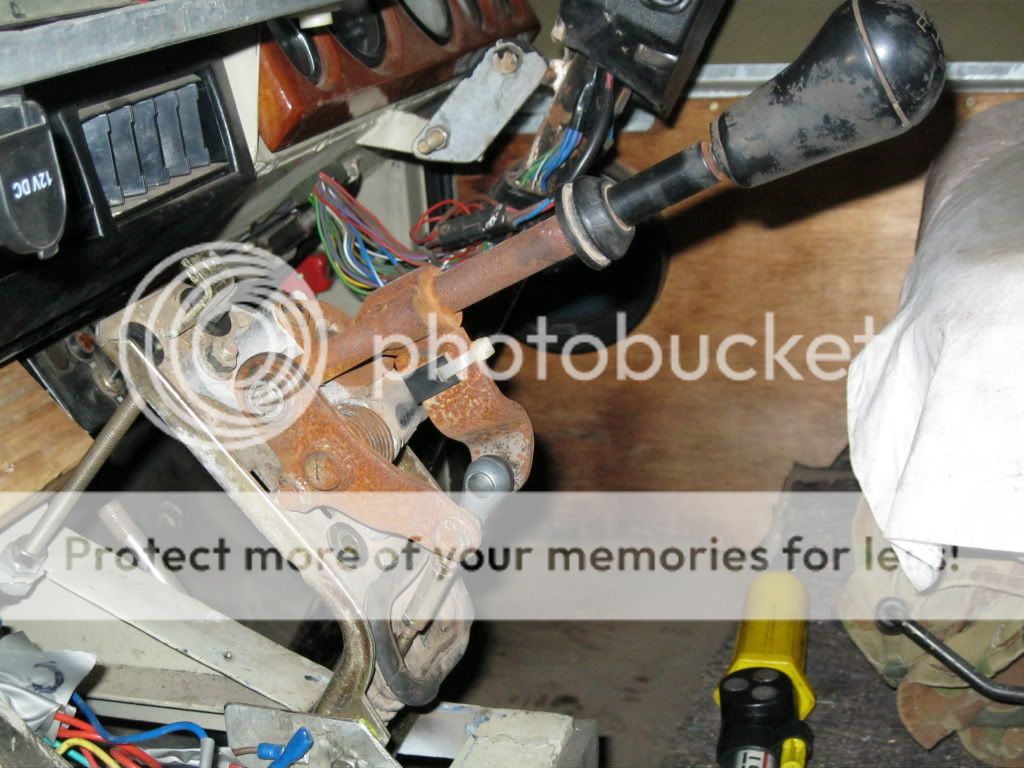 Cable gear change development.
Keith
---
---
Who is online
Users browsing this forum: No registered users and 1 guest